Meet the Acupuncturist
Meet Dr Gul R.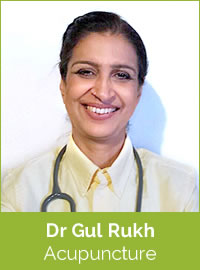 Gul is an experienced medical doctor with a special interest in complementary medicine. Her strong belief in the benefits of a healthy lifestyle and taking a holistic approach to achieving and maintaining the mental and physical well-being of her patients led her to explore natural therapies.
Gul trained in a combination of Western and Chinese acupuncture, and has practised for over 15 years in Tuscany, Italy within different GP clinics where she also worked as locum GP, treating a wide variety of diseases. Her blend of training enables her to offer clients a comprehensive consideration of their condition, and as such her pre-assessment and examination uses the conventional methods of investigation and diagnosis before the start of an acupuncture treatment.
Education
Gul graduated with a degree in medicine from the University of Pisa, Italy in 1995 and she is registered with the GMC (General Medical Council) with a license to practise medicine here in the UK. She is a member of the British Medical Acupuncture Society, and she regularly part-takes in further professional development to enhance her knowledge and skills in acupuncture therapies.

Irrefutable Health | (020) 8945 3701 | Kingston Acupuncturist