Phlebotomy and Centrifuging
Services include: Blood Draw, Freezing or Centrifuging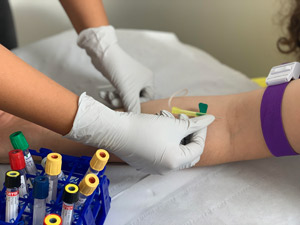 Irrefutable Health is proud to offer an outstanding phlebotomy (blood draw) service to both our patients and those who have kits themselves.
We offer an on site centrifuging service and samples are processed on the day while you wait. Pick up can be arranged by yourself via courier while your samples are stored safely. Genova Diagnostics is a 4 minute drive away so samples can be dropped off by the patient.
Before booking your appointment:
Please purchase your test-kit from your practitioner or directly from the lab-testing company.
When your test kit arrives, please look inside your testing kit and confirm the number of vials of blood and whether centrifuging is required.
Then please choose the appropriate option below to book online, you will be able to choose a date and time, pay for the appointment, complete your consent forms and Covid 19 risk assessment through our patient portal.
*Please note:
Irrefutable Health is not responsible for delivery of samples.
Test Kits and Tubes are to be provided by the patient/lab.
Minimum age for blood draw patients is 16 years of age.
You will need to reschedule your appointment if you test positive or suspect you have Covid-19.
Phlebotomy appointments prices are based on time required up to a maximum of 40 minutes. We reserve the right to add an additional cost on the day. (This may happen if your test kit has vials which need to be centrifuged separately, or an unusually high number of vials OR if you are bringing multiple test kits).
Additional time required will be charged at £25 in 20 minute increments.
Before your appointment:
Ensure you have read your instructions, some tests require fasting.
Appointments are booked and prepaid online.
If you have any queries about your kit or instructions please check with your kit provider before your appointment.
Ensure all online intake and consent forms are signed and filled prior to your appointment.
Ensure all information sections are filled, e.g. Medications, allergies, concerns.
If you have any conditions that may affect your blood draw please leave a note in the 'concerns section'.

Phlebotomy and Centrifuging Kingston | (020) 8945 3701